Service Flat Rate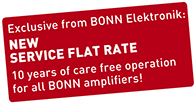 What is your budget for 10 years service?
Based on the known high reliability of our systems we can offer service flat rates for 10 years of care free operation at surprisingly low rates!
Service Flat Rate…
LAN TCP/IP (Option L) now becomes the standard remote control interface
Because of the meanwhile widespread LAN ports, we have changed our standard
configuration for the remote control interfaces:
As of now all amplifier models are free of charge equipped with the LAN TCP/IP (Option L)
remote control interface as a standard now.
The IEEE 488.2 GPIB (Option C) of course still is optionally available.


New generation of LAN TCP/IP interface
The new generation of the LAN TCP/IP interface offers several additional new features:
– Web server with updated graphical user interface and fast response times. The status messages and changes are updated almost in real time.
– Easy access to advanced diagnostic capabilities – if required even remotely
– Together with the new generation of our system control the LAN TCP/IP interface provides an improved access to the service menu.
Those details now are presented much more clearly.
– Additionally, there is an event log for about 50 entries which are synchronized with the built-in elapsed time meter and stored in a non-volatile memory.
– Furthermore, access via SNMP protocol is optionally available.
MIL Vibration Test (120 minutes @ 0 dB)
Selection Charts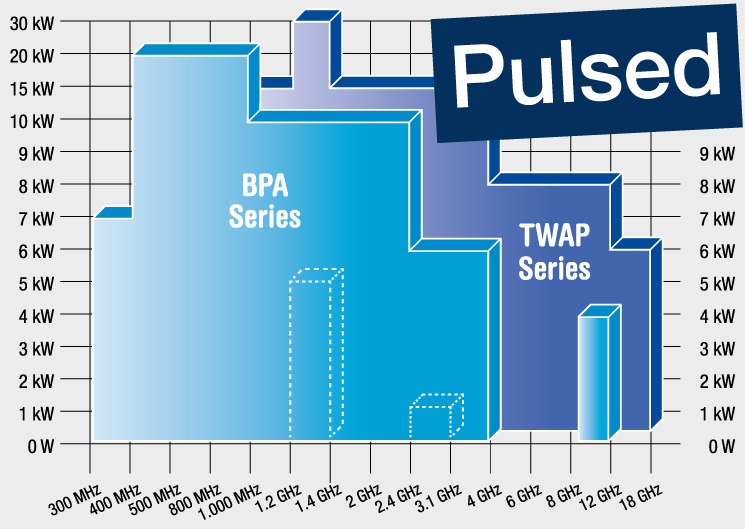 Our selection charts are providing a quick overview over the available maximum output power levels at each model series and technology for following four ranges:

– kHz
BSA and BTA at 9 kHz … 500 ( 1000) MHz
– MHz
BLWA at 1 … 1000 (4000) MHz
– GHz
BLMA and TWAL at 100 MHz … 40 GHz
– Pulsed
BLPA/BPA and TWAP at 300 MHz … 40 GHz
Datasheets for all Amplifier Groups
In our product database, you will find a suitable system solution for your application. All data sheets of our almost 1000 (!!!) standard amplifiers for download in PDF format.
RF Power Amplifiers…